Products & Solutions
>
Grinder
>
Crusher feeder
> Index
Crusher Feeder
Features easily removable parts to simplify inspection and service operates on only 5 to 7½ hp - feeds up to 125 hp mills
Rugged dependable and efficient the Crusher Feeder has a simple, compact design that saves space and eliminates costly repairs. There are only two wearing parts and these are easily removed by the operator for repair or replacement without disturbing the installation.
No Crusher Feeder ever has to to be returned to the factory for service.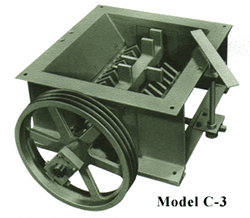 A reversible shaft permits driving the Crusher Feeder from either the right or left side. Positive rack and pinion type flow control can be operated directly at the machine or from a remote location. The feeder gate opens and closes smoothly and without binding.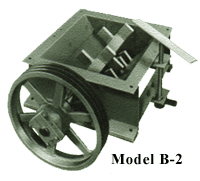 Quick and easy access for inspection and cleanout is obtained by simply loosening three wing nuts and lifting out the crusher finger plate. Protection against damage from tramp metal and stones is provided by a shear pin pulley.
Faster and finer crushing action (with minimum wrapping of corn husks) and a large feed opening area give this machine ample capacity for feeding high HP hammer mills.
TWO SIZES AVAILABLE
Model B-2 for use ahead of mills up to 60 HP
Model C-3 for use ahead of mills up to 125 HP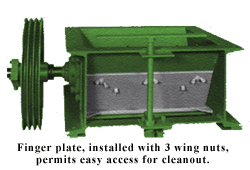 Email us at