Products & Solutions
>
Grinder
>
Circ u flow hammer mill
> Index
Circ U Flow Hammer Flow
Featuring three major design advances that assure superior operating efficiency, longer life, and increased economy.
The all-new Series 301 represents a notable achievement in hammer mill design. it is the result of extensive experience, proven engineering capabilities, and the determination to provide customers with not just a better hammer mill, but the best available. The Series 301 offers all the advantages of our popular Series 300 Circ-U-Flow Hammer Mills..including top feed for instant grinding action, airless gravity flow, U-shaped screens, and simple design...plus major innovations that make other hammer mill designs obsolete.
THREE EXCLUSIVE NEW FEATURES
BETWEEN-BEARING ROTOR LOCATION



Eliminates the over-hung or outboard rotor arrangement normally used in circular type hammer mills. Achieves greatly increased bearing life, smooth operation with less vibration, and a more compact unit.


INTERNAL BUTTERFLY VALVE / DIRECTIONAL SPOUT


Lever set for clockwise grind.


Lever set for counter-clockwise grind.

Directs incoming material to either right or left of center on the hammering circle - with the simple flip of an external lever. Permits the mill to grind clockwise or counter-clockwise by reversing the motor's direction. Enables both cutting edges of the hammers to be utilized without removing them from the rotor, insuring longer, uniform wear.


MIDDLE-HINGED SCREENS

Makes it easier than ever to insert screens...and permits replacement of worn sections, rather than the entire screen. Exclusive eccentric locking device clamps screen in perfect position to hammering circle.
UNMATCHED IN EFFICIENCY...PERFORMANCE...ECONOMY
Top Feeding, proven most efficient in hammer mill operation. Leading edge of screen creates a breaker plate action that gives instantaneous grinding action.
Unsurpassed capacity, thanks to exceptionally large screen area, plus the breaker plate action.
Airless operation, utilizing gravity for dependable feed and discharge, eliminates the need for a fan or dust-collecting system on most products, permits greater flexibility of location. Ground material drops from open bottom of mill for removal by any desired conveyor system.
Practically dust-free, because ungrounded material enters the mill as a solid mass with minimal entrained air. Since little air therefore leaves the mill, grinding is virtually dust-free, preferred by employees and owners alike.
Smooth, uniform granules, with a minimum of fines or powder, means superior animal feed which is more palatable and easier to digest.
Rugged welded steel construction and simple design permit continuous, high-production operation in grinding a wide variety of free flowing products.
COMPLETE, EASY ACCESS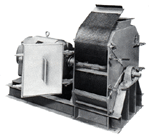 Swing-out access door showing middle-hinged screen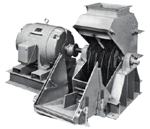 Drop-down door exposes hammers and rotor

The Series 301 is an open and shut case for easy serviceability and maintenance. The frame is designed with three hinged doors that drop down or swing out to provide complete access for replacement of screen, hammers or rotor.
THREE SIZES - FOR HIGH-SPEED OPERATION
The Series 301 is offered in three different sizes, ranging from 25 to 125 electric horsepower. Model 24-l0 uses from 25 to 40 H.P.; Model 24-15 from 50 to 60 H.P.; Model 24-20 from 75 to 125 H.P. All are designed for high-speed operation.

Some Examples:
Corn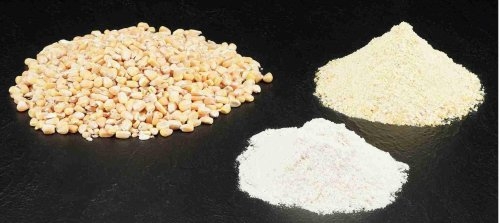 Wood to Sawdust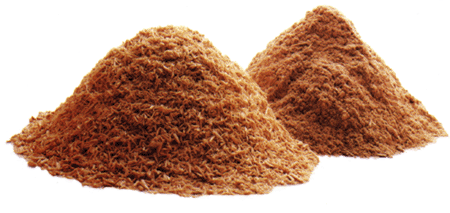 Email us at