Products & Solutions
>
Grinder
>
Slow speed horizontal grinder
> Index
Slow Speed Horizontal Grinder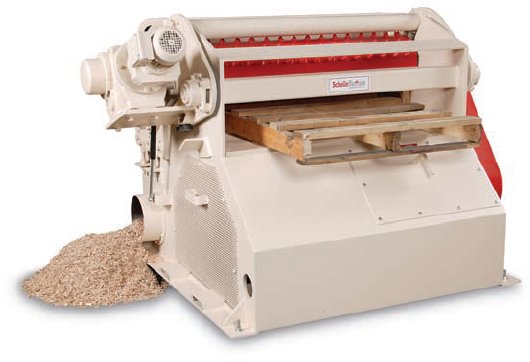 The LP Series is a unique horizontal-fed, slow speed grinder for pallets and other wood scrap that provides a superior grind for profitable resale as landscape mulch, boiler fuel and more.
The Quality and Value of our Hammermills
High efficiency with capacity to process up to 2 pallets per minute
Rugged, steel plate construction and precision machining for decades of continuous service.
Easy access to screens and other components reduces downtime for maintenance.
The optimum combination of low initial investment and long-term durability.
FEATURES
Motor and drive
High efficiency, 1200 RPM, TEFC Motor with V-belt drive and guard
Driven speed - 425 RPM (slow speed, high torque design)
Feed Roll Construction
Upper feed roll system with variable frequency drive
11" diameter, heavy wall feed roll with 1" spikes
Load sensed feed roll control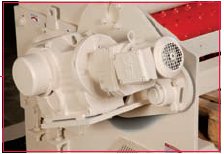 Grinder Construction
Housing manufactured from 3/4" A36 plate
3/4" steel mounting base plate
Multiple access doors for easy servicing
Perforated screen (per customer specification) with heavy duty cradle
Discharge set up to accept auger or pneumatic evacuation
Electrical Controls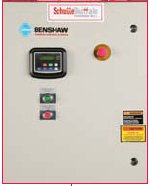 Fully integrated NEMA 12 control panel
Soft start motor starter
Current monitoring system for precise in-feed control
LCD display with keypad and feed roll "start", "stop" and "E-stop" push buttons
Feed roll VFD mounted in panel
Optional circuit breaker disconnect
Main motor and feed roll motor overload protection
Line Reactor
Rotor Assembly
Heavy duty, 15" diameter, balanced rotor assembly
2-way, indexable cutter teeth for maximum life
Heavy duty rotor disc assembly
Precision machined shaft with 5-year warranty
Grease lubricated, Dodge piloted flange bearings - 4-7/16"
Adjustable anvil and rotor to ensure tight tolerances
Anvil manufactured from S-7 tool steel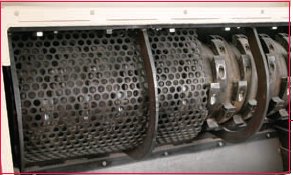 Perforated screen has been cut away to reveal rotor assembly in photograph

Click here to Contact Us.

or, Email us at


Bookmark this site

Print this page