Products & Solutions
>
Wear patch
> Index
Wear-Patch - Wear Resistant Coating
Trowellable Wear Resistant Coating
Your Versatile Wear Solution
Wear-Patch is a wear, abrasion and corrosion resistant coating consisting of a mixture of 70% ceramic beads suspended in epoxy resin.
Wear-Patch provides excellent protection against sliding abrasion and moderate impact when used in bulk handling operations.
Wear- Patch can be applied by trowel or spatula and cures under normal conditions in about 8 hours.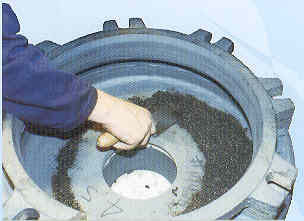 Typical Applications
Chutes
Agitators
Launders
Slurry Lines
Pipe Bends and Elbows
Pump Linings/lmpellors
Wear-Patch is available in two formulations:
Wear-Patch S - standard formulation for general wear conditions.
Wear-Patch U - ultra hard formulation for most abrasive conditions.
Technical Specifications
Composition
70% concentration of ceramic beads suspended in epoxy resin.
Particle Size
Average particle size is 20/40 mesh (0.4-0.84 mm)
Adhesive
Epoxy resin.
Curing Agents
Triethylenetetramine (Teta)
Wear-Material
Wear-Patch S - major component alumina.
Wear-Patch U - major component silicon carbide.
Working Time
Approximately 30 minutes.
Curing Time
Approximately 8 hours at 21°C.
Approximate Coverage
7kg covers 0.75m2 to 6mm thick.

Shelf Life
Up to one year.
Application
Wear-Patch adheres to most clean, dry surfaces including metal, ceramic, plaster, wood and cement. Roughen smooth surface with a steel brush or by sand-blasting. Can be applied in thicknesses from 1.5mm to 25mm with little or no sagging or slumping. On large areas, welded anchors or tack welded expanded metal are recommended.

Email us at